A 'Diaspora Diamond' | Canada-based Guyanese has made Guyana proud!
IT has been a most exciting roller coaster ride for Canada-based, Guyana-born Anthony "Tony" McWatt, a staunch advocate of sports, particularly cricket and tourism, while being a business marketing manager and publisher among other portfolios he has held over the years. McWatt's most recent endeavour as TMac Enterprises Publisher has been his publication of Kissoon30: a commemorative magazine in celebration of Guyana-born Dhaman Kissoon's March 2021 30th Anniversary as an Ontario Barrister.
As many may be aware, he is the son of the former Guyana and West Indies wicket-keeper/batsman Clifford McWatt, of whose record, especially that of having given Gary Sobers his very first Test wicket, he is extremely proud.
Before migrating to Canada from Guyana, McWatt's endearing love for tourism started when he served as President of the St Rose's High School Tour Club between 1976-78. During that period, he was credited with organising student group tours to New Amsterdam, Mainstay Lake and the Essequibo islands. He also coordinated a one-week overland tour to Paramaribo, Suriname, for 25 St Rose's High students and staff.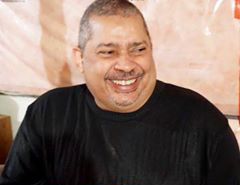 Despite migration, Tony never wavered in his sports and cricket tourism endeavours as between 1981-85, he was the Cultural Commissioner, Scarborough Campus, University of Toronto, where he was studying. Among the highlights while serving in that prestigious post, he was responsible for organising Caribbean Students Association annual sports tours to Ontario and Quebec City Universities: McMaster, Western, Guelph, Concordia and Carlton. He also coordinated a Canadian Caribbean Students – University of the West Indies Sports exchange resulting in the visit of 35 Canada-based Caribbean students to UWI's Cave Hill, Barbados Campus for soccer, netball and basketball matches.
After Tony became the Executive Director of the Ontario Cricket Association in 1992, he developed and coordinated the Ontario cricket team tour to Guyana, conceived, developed and organised a group tour for 35 Canada-based South Africans to attend the 1993 West Indies – South Africa Test Match in Barbados and worked with Canadian Cricket Association President Jim Siew to secure Canada's participation in the West Indies Cricket Board's annual Red Stripe Cup Limited Overs Competition. He also accompanied the Canadian team to the 1994 Red Stripe Cup matches in Jamaica.
As the International Business Development Manager, Western Union North America between 1996- 2001, Tony was responsible for writing Western Union-sponsored West Indies cricket articles for Caribbean Camera newspaper. Among his other duties was to organise annual Canadian group tours for West Indies Test Matches in Antigua, Barbados, Guyana, Jamaica and Trinidad & Tobago. He also provided Western Union-sponsored Caribbean Camera newspaper on-site coverage of Canada's cricketing participation in the 1998 Malaysia-hosted Commonwealth Games and coordinated the participation of 25 Western Union Canadian agents and customers in the 1999 Trinidad & Tobago Carnival
As Managing-Director of TMac Enterprises between 2010 and 2015, Tony developed and implemented a Canadian advertising campaign for Guyana's Roraima Airways. He was also tasked with coordinating with the Barbados Tourism Authority to provide onsite coverage of the 2013 Barbados Gospelfest and Crop Over Festivals, conceived, developed and published a Caribbean Tourism-sponsored Toronto Caribbean Week Caribbean Graphic Supplement and provided on-site Caribbean Graphic coverage of the 2014 Guyana Festival.
Venturing into the publishing business in 2015, Tony headed Caribbean Graphic which was responsible for launching Facebook Social Media Group: Greenheart Canucks; developed and placed Greenheart Digest Supplements in Caribbean Graphic Issues; identified and placed tourism promotion-related articles for Caribbean Graphic Greenheart Digest Supplement inclusion; developed promotional links with Guyanese Online and Guyanese On The Internet Social Media websites, while continuously posting numerous Guyana Tourism related promotional articles on Facebook
As the Caribbean Graphic/Media Relations Director, Tony quarterbacked the formation of the Guyanese-Canadian Tourism Council(GCTC); provided on-site coverage of the St Kitts Ocean Terrace Inn Fisherman's Wharf Restaurant Official Reopening; organized the GCTC's Fly Jamaica-sponsored Inaugural FAM Tour To Guyana; produced an eight-page Guyana Tourism Supplement for placement in Caribbean Graphic's November 2017 Tourism Awareness Special Issue and published the 2018 InTouch Guyanese-Canadian Business Directory as a Guyana Tourism promotional vehicle
During 2018, Tony relayed on-site media coverage of the St Lucia-hosted 2018 ICC Women's T20 World Cup matches and also published Legacy Ensured Magazine to celebrate Bedessee Imports'40-year Cricket Gear Supplier Company history; he developed, edited and published Wickets as Cricket Canada's monthly online magazine; provided onsite media coverage of the Cricket West Indies Barbados Regional Super50 Competition semi-finals and final.
In 2019, Tony provided on-site coverage of the Barbados Kensington Oval-hosted West Indies-England first Test for Cricket Canada Wickets magazine readers.
Summing up his connection to his late father, Tony confessed that "growing up as the only son of one of the most well-liked cricketers Guyana has ever produced, I always felt that my father had been disappointed not so much that my talents as a cricketer were not even a shadow by comparison to his, but far more that I didn't make the very most of whatever little talent I did have."
According to Tony, "at Queen's College playing representative cricket for the school, there was always the ridiculously unfair judgements of my cricketing achievements against the backdrop of being the son of a famous national and West Indies cricketer. The fact that I finished second as the school's highest wicket-taker in both the 1974-75 and 1975-76 Wight Cup seasons and was the only bowler to capture a five-wicket haul in the latter season, the respect I felt I deserved was never forthcoming."
Tony pointed out that "the greatest influence my father's cricket career had on me was that it allowed me to fully appreciate how much West Indies cricket meant to him and those he played with. The enduring personal friendships he'd formed with the likes of each of the three Ws: Sir Frank, Sir Clyde and particularly Sir Everton, as well as those he had with Jk Holt, Sir Garfield Sobers and Lance Gibbs and the expressed admiration each of those individuals had for him left an indelible impression on me."
Touching on his father's sudden demise, Tony said "when he died as unexpectedly and tragically as he did, the effect was to make me want to honour his memory by endeavouring to use my writing skills and my publishing activities in service to either West Indies and/or Canadian cricket, specifically on the sport as a whole and to always try to do so to the very best of my God-given abilities in the hope that by so doing I would make him as proud of me as I was of him!
Ironically it has been as the Publisher of Wickets, a Canadian rather than Caribbean cricket magazine and which is now in its third full year of publication that Tony McWatt now finally believes that he has indeed engaged in activities of which his father would have been justifiably proud! He also now still harbours ambitions for publishing activities to eventually serve as a catalyst for boosting cricket and sports tourism ventures from Canada to the Caribbean.